Products
Products
Products
Products
Products
Products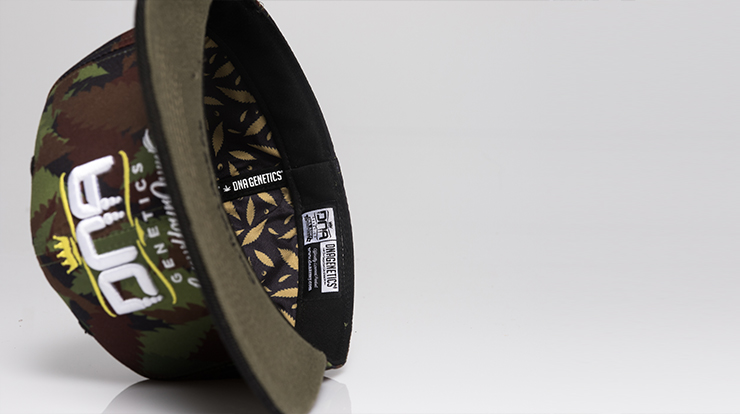 DNA Genetics New Collection Hats
Dec 25, 2016
We are happy to let you know that we have some fresh new DNA Genetics hats for 2017. We have two fitted hats and two snapbacks, each with their own unique DNA branded designs. These new hats will limited and once sold will not be back for sale. Make sure to act now if you wish to get hold of some serious DNA Genetics heat.
Each Hat features a secret stash pocket and joint holder to the side of each cap!
Special DNA Stash Box
These DNA Genetics Stash Boxes are very limited and will not only house your fresh DNA hat but can be used to store your favourite jars or accessories with complete DNA Genetics branding thought. Inside the box features a special DNA Gold Leaf pattern complete with magnetic closure.
Limited Edition DNA Genetics Fitted Hats | 45 euros each
1) 6 panel High Quality Fitted Hat
2) Sublimated pattern around entire Hat
3) Raised Embroidery throughout entire hat
4) Woven Grow Your Own Joint Holder to side
5) Custom Silk inner linning
6) Secret Pocket
7) Custom Leaf embroidery on eyelet
Fitted hats comes in the following sizes:
57cm - 7 1/8 (xs)
58cm - 7 1/4 (s)
59cm - 7 3/8 (Medium)
60cm - 7 1/2 (Large)
61cm - 7 5/8 (Extra Large)
Limited Edition DNA Genetics Snapback Hats | 45 euros each
1) 6 panel High Quality Snapback Hat
2) Snapback closure to back with woven label
3) Raised Embroidery on front, back, leftside and underbrim
4) Woven Grow Your Own Joint Holder to side
5) Custom Silk inner linning
6) Secret Pocket
7) Custom Leaf embroidery on eyelet
8) Inside custom labels
Purchase online today
www.dnaarmy.com | The Official DNA Genetics Merchandise Webstore
Author: Admin
Tags:
comments powered by